To stay up-to-date on the latest news, please see our calendar.
---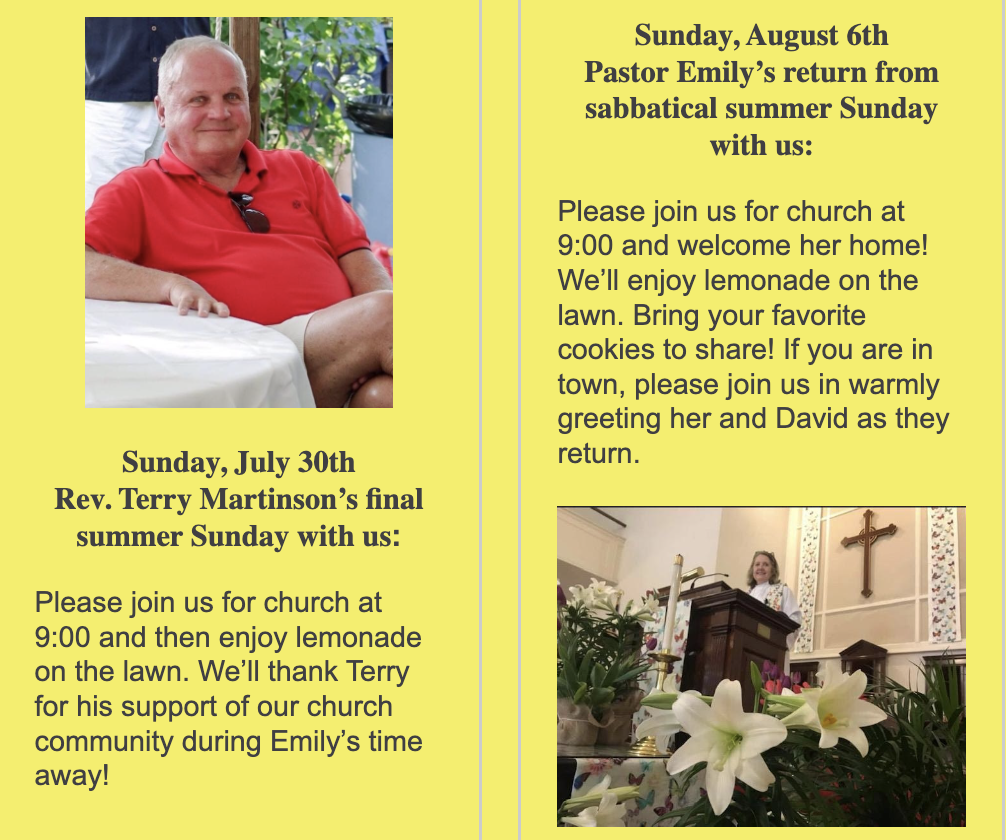 ---
We will offer the crib room this year! Please share this info with anyone who is wonderful with children and meets the criteria!
Seeking a Crib Room Childcare Provider
The Congregational Church of South Dartmouth is looking for an experienced childcare provider for Sunday mornings. Are you a responsible 21 years old or over individual with plenty of interest in caring for children? Our crib room is open for 1.5 hours of childcare at $30/hour each week. Applicants will be CORI checked and must be vaccinated/boostered. Fun opportunity. References required. Feel free to pass this along to anyone you know who is wonderful with children. Grandparents, college students and local babysitters encouraged to apply. Contact Beth Neto at bethneto@icloud.com
---
Meet our Interim Choir Directors
Tara Thomas
Tara is a life-long resident of Dartmouth. She is a member of the graduating class of 1993 from Dartmouth High School. After high school, she went on to earn her Bachelor's Degree in Music Education from Mercyhurst University in Erie, PA in 1997. She also received her Masters Degree in Music in 2007 from Rhode Island College.
Currently, Tara is the choral director at Dartmouth Middle School in our town. She has been teaching middle school music for 25 years. She also teaches private piano lessons in her home in Dartmouth. She has performed in several concerts with Sine Nomine's a capella choir off and on since 1999, and was a cantor at St. Julie Billiart for many years. Tara directed the Spirit of Song Choir at St. Anthony's church in 2017, and she has been a substitute pianist for the First Congregational Church of Fairhaven for several years. She has also sung for multiple weddings and funerals throughout her career.
Tara is the mother of twin boys who recently went away for their first year at college. She also has two step-daughters; one is in college and the other is already out in the real world. Her husband, Mark Vadnais, is the love of her life who she married in 2017 in a surprise wedding during a blizzard. She can't think of anyone better to be by her side while singing God's praise at church. She is so excited to start this new journey at the Congregational Church of South Dartmouth!
Mark Vadnais
The Barrington Public School system in Rhode Island has been Mark's classroom for over 25 years, He is passionate about teaching his students the art of music appreciation and performance. His young performance choirs continue to impress colleagues & the community.
Mark holds an Associates Degree from Community College of Rhode Island in Jazz Studies, and a Bachelor of Arts in Music Education from the Berklee College of Music in Boston. From his studies, Mark has a wealth of knowledge in world music, music education and performance. In 2011, Mark was presented the Yale Distinguished Music Educator Award.
Mark is a free-lance percussionist and has performed with several national and local musicians. He has performed on cruise ships, and with many oldies groups such as the Drifters, The Platters and The Coasters. He is often sought out to do studio recordings with jazz and blues musicians. Mark's latest project that he is excited about is his current band entitled, "In Lieu of Flowers." They just finished recording their first self-titled album. They are an eclectic group of musicians playing Americana music with instrumentation consisting of accordion, fiddle, mandolin, Irish bouzouki, and the pedal steel.
Mark Vadnais is a true New Englander, living in Rhode Island most of his life. He made a home in Bethlehem, New Hampshire and now resides in the beautiful south coast of Massachusetts. He has two beautiful adopted daughters. His oldest daughter was born in Vietnam, and his youngest daughter was born in China. Mark enjoys spending time with his twin step-sons, his beautiful wife and his dog, Pixie. He is also very excited to be a part of this church community.
---